"We know how important our family is.
We will remember that when we serve yours".
Our mission for you: "Helping Our Clients Buy Smart and Sell Smart."
Gary & Terri have two grown girls - ages 28 and 25 - and strive to treat each client like a member of our own family.
With our Sellers, we strive to get the top dollar for their home and to have it sold as quickly as the market will bear. Depending upon the market and the property, each circumstance is different. We are versatile in how we approach marketing, selling and servicing your listing before and after the sale. We work very hard and efficiently to accomplish that for each and every one of my clients.
The REALTOR.com site is a good website - as are others local Twin Cities area real estate sites. HOWEVER, their data isn't always 100% accurate as they may show a listing as "active" when it really may be sold and has been off the market for many months. That can be really frustrating for a Buyer who gets their hopes up on a home ... only to find that it is truly not available. This happens with most short sales, foreclosures and homes already sold, contingent upon an inspection.
What we can do with our comprehensive MLS system data is make it much easier for you to keep your "finger on the pulse" of the market. We have a program that will send you JUST those new listings that meet the criteria you and I set up for a search. We like to arm our Buyer clients the tools they need so that we can work hand-in-hand to find a G-R-E-A-T home for you!!
The same methodology works for us on the Selling of your home.
So ...whether you're buying or selling, please contact us NOW:
Gary: Cell: 612-325-3175 / GaryHilgers@gmail.com
Terri: Cell: 952-250-0280 / TerriHilgers@gmail.com
*** Check out our many customer references on the "Testimonials" tab
Gary's Professional Experience:
Ranks in the Top 2% in real estate sales production.
Inducted into RE/MAX's coveted Hall of Fame in 2007 for sales production in finding homes for Buyers and getting Seller's homes sold.
20+ years of full-time real estate experience
30 years of professional business experience including
positions in the computer & engineering fields of :
National Sales Director – Laser Design, Inc.
Midwest Regional Sales Manager – Steinbichler USA
Marketing Administrator – Control Data, Corp.
GRI - Graduate of Real Estate Institute.
e-Pro - Accreditation (REALTOR designation for internet expertise)
SRES - Seniors Real Estate Specialist (assisting senior-aged Buyers & Sellers).
Recognized 10 of the past 11 years as a "Super Agent" by Twin Cities
Business and Twin Cities Home magazines. (One year, I must not have been so "super")

Educational Experience:
Gary:
1979 Graduate from Moorhead State University
B.S. Degree in Finance. Minor - Economics
Terri:
1979 Graduate of North Dakota State University
B.S. Degree in Fashion Merchandising
Gary & Terri - married 36 years (it's getting pretty serious).

Personal Interests:
Gary: My family along with my faith, reading, computers, movies, guitar, golf and collecting of golf antiques.
Terri: Reading, walking, movies, design, creative projects, family.
Buyers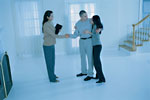 Check out how we work with Buyers. Read more.
Sellers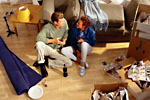 Home Sellers are our SPECIALTY! Call us to discuss your particular situation. Read more.